Vesper skis have soft and forgiving flex, they are also lightweight and responsive thanks to poplar and ash woodcore.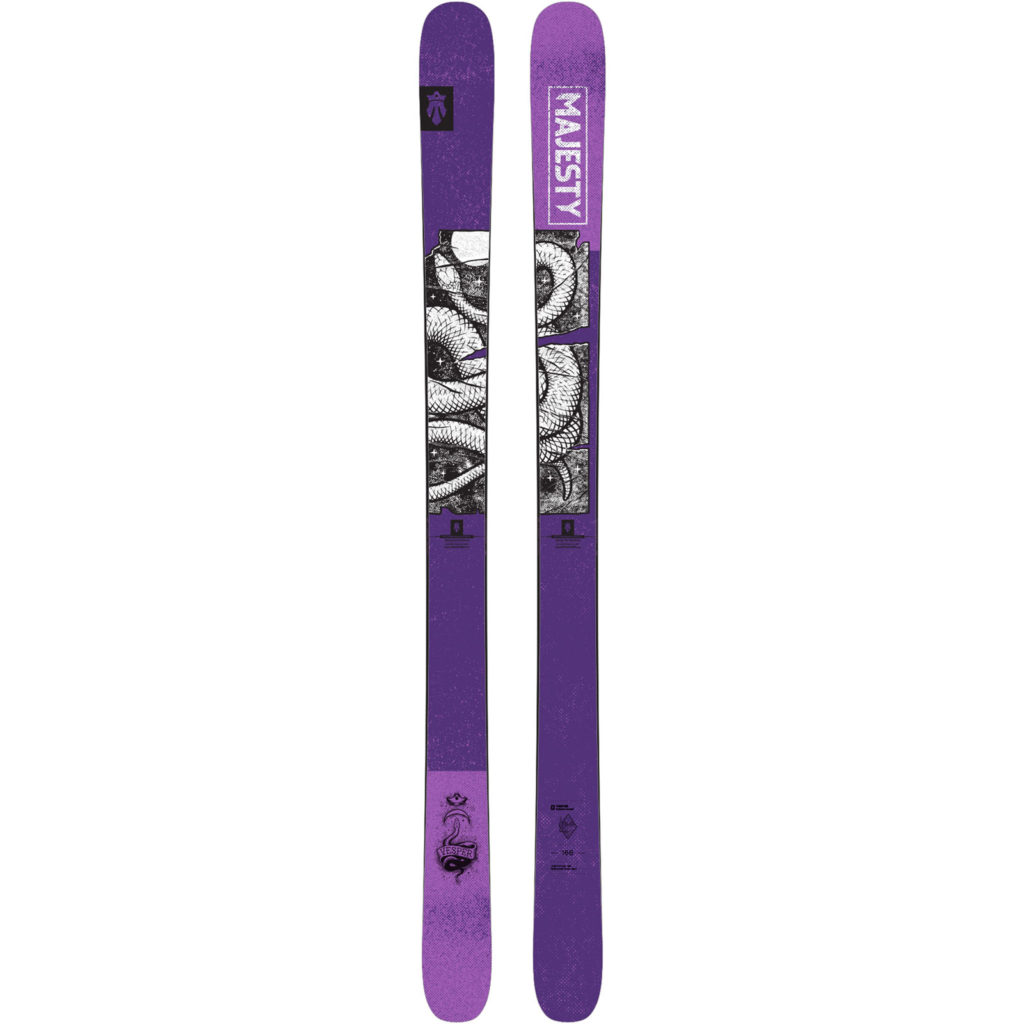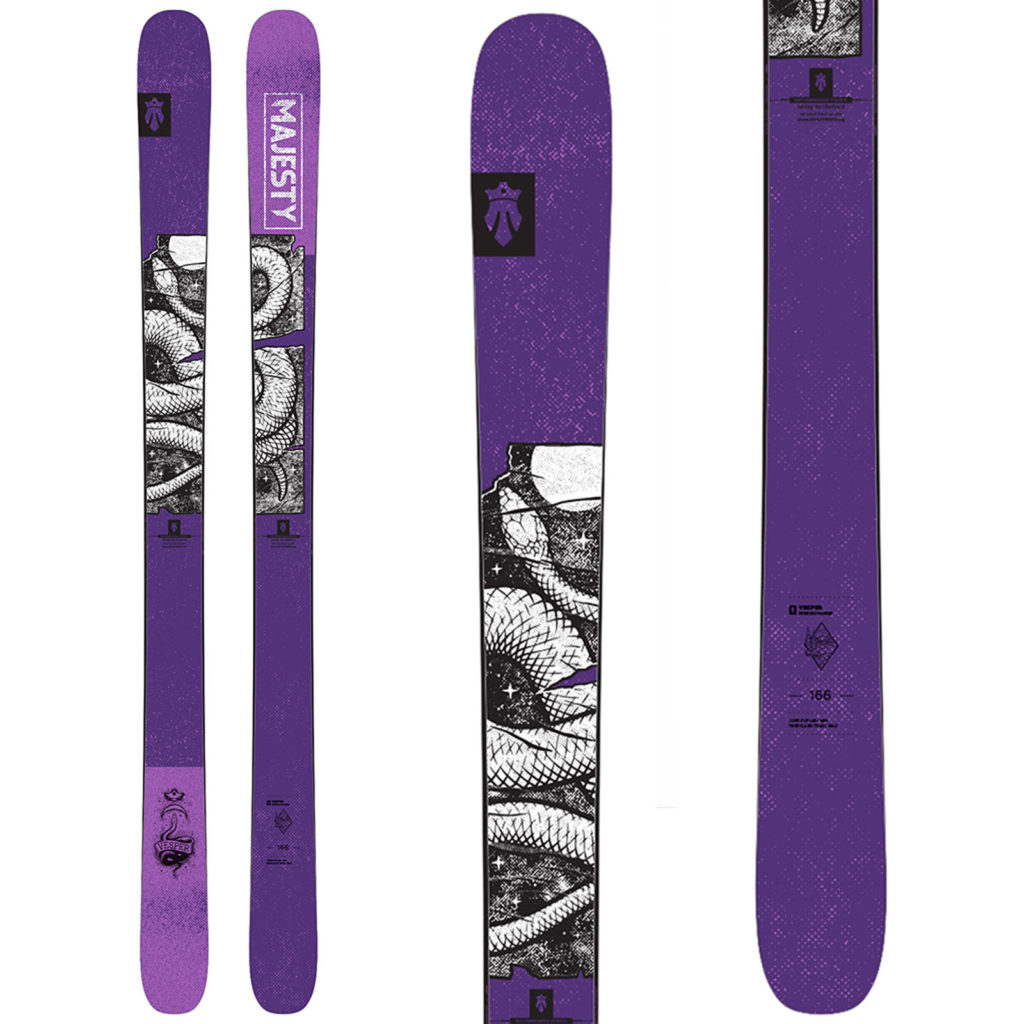 While rocker supports effortless turn initiation and nose butters, camber construction delivers stability and perfect edge grip.
Semi-hybrid construction supports and absorbs the impacts of flat landings and choppy terrain. Vesper skis are directional freestyle skis that are fun, easy and comfortable to handle.
Additionally, they are equipped with semi-cap construction and durable corrund top sheet for improved performance and scratch resistance.
Hvilken lengde passer til deg?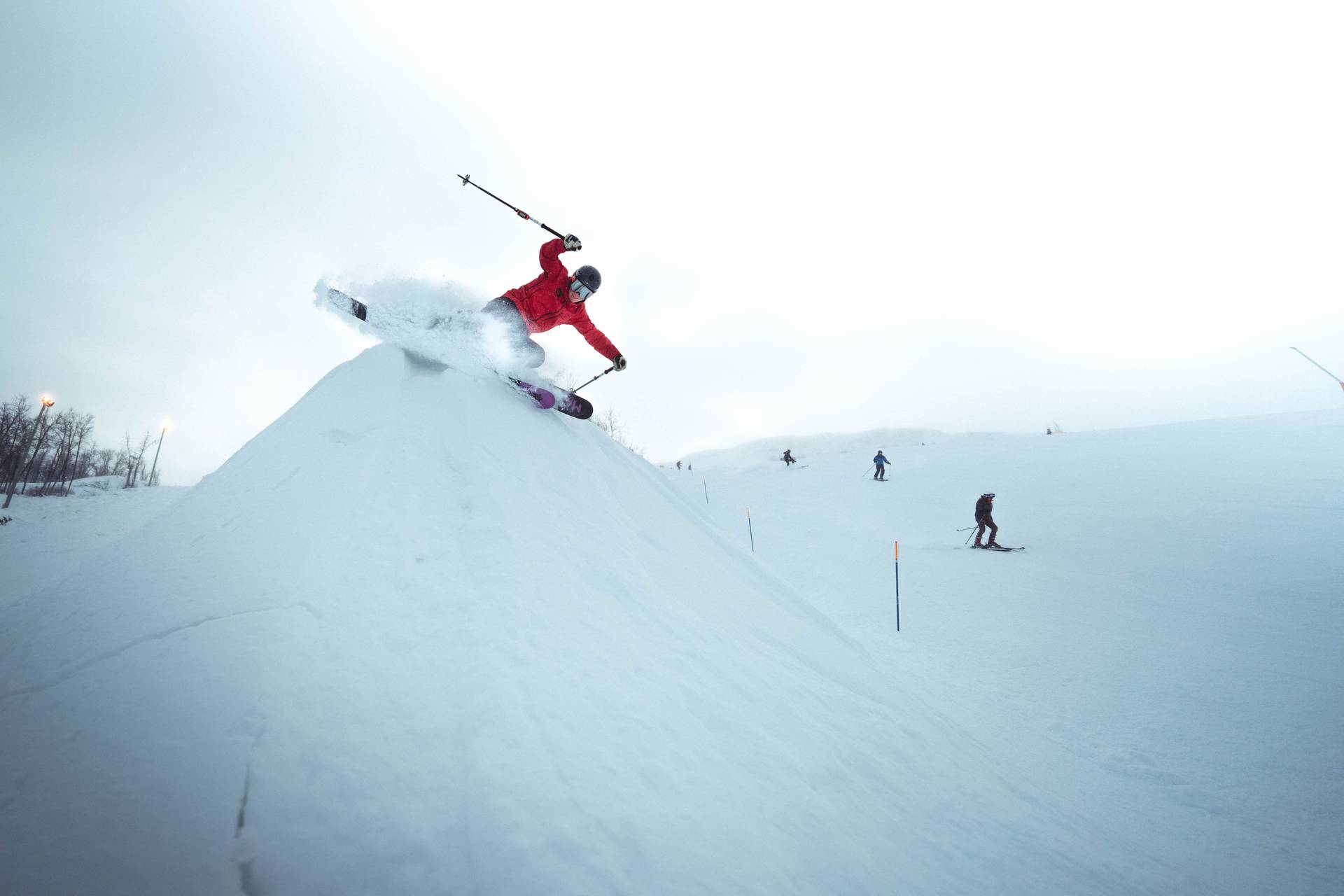 Compare Freeski Men Range
DIRTY BEAR PRO

VANDAL

DIRTY BEAR XL

VESPER

VESTAL

Construction

hybrid (front rocker/camber)

Construction

hybrid (rocker/camber/rocker)

Construction

hybrid (4x4rocker/

camber/4x4rocker)

Construction

semi hybrid (camber/front rocker)

Construction

hybrid (4x4rocker/

camber/4x4rocker)

Shape

directional twin-tip

Shape

true twin tip

Shape

directional twin-tip

Shape

directional twin-tip

Shape

directional twin-tip

Flex

directional

Flex

twin

Flex

directional

Flex

directional

Flex

directional

Flex ratio

6

Flex ratio

5

Flex ratio

6

Flex ratio

6

Flex ratio

6

Rocker type

150mm (tips)

Rocker type

150mm (tips & tails)

Rocker type

240mm (tips & tails)

Rocker type

150mm (tips)

Rocker type

240mm (tips & tails)

Waist

90mm

Waist

95mm

Waist

105mm

Waist

90mm

Waist

105mm

Radius

14,5-21,5m

Radius

14-16m

Radius

16-21m

Radius

14,5-19m

Radius

16-20m

Weight

1270-1700g

Weight

1580-1770g

Weight

1630-2000g

Weight

1270-1500g

Weight

1630-1910g

Fiberglass

triax & biax

Fiberglass

triax & biax

Fiberglass

triax & biax

Fiberglass

triax & biax

Fiberglass

triax & biax

Core

tip-to-tail wood core (poplar & ash)

Core

tip-to-tail wood core

(poplar & ash)

Core

tip-to-tail wood core (poplar & ash)

Core

tip-to-tail wood core (poplar & ash)

Core

tip-to-tail wood core

(poplar & ash)

Base

fast base IS7200

Base

fast base IS7200

Base

fast base IS7200

Base

fast base IS7200

Base

fast base IS7200

Extras

durable sturdy

corrund top sheet, semi cap construction

Extras

durable sturdy top

sheet, semi cap construction

Extras

durable sturdy

corrund top sheet

Extras

durable sturdy top

sheet, semi cap construction

Extras

durable sturdy corrund

top sheet, semi cap construction
| LENGTH | SIDECUT | RADIUS | WEIGHT |
| --- | --- | --- | --- |
| 150 cm | 122-95-113 mm | 14.5 m | 1270 g |
| 160 cm | 122-95-113 mm | 16 m | 1400 g |
| 166 cm | 122-95-113 mm | 17.5 m | 1450 g |
| 171 cm | 122-95-113 mm | 19 m | 1500 g |